Remodelling project - Dromoland Castle Hotel & Country Estate, Newmarket, Ireland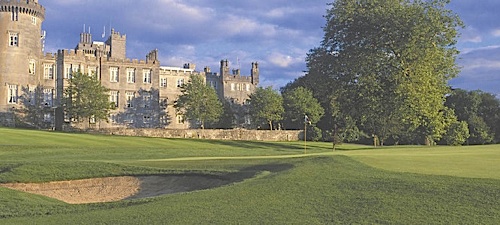 A major remodelling and renovation of the 18 holes and the second phase of a state of the art driving range and golf academy. The course is set on the mature Lord Inchquin Estate
| | |
| --- | --- |
| Name: | Dromoland Castle Hotel & Country Estate, Newmarket, Ireland |
| Website: | http://www.dromoland.ie/golf.html |
| Contract Type: | Traditional IEI contract |
| Client: | Dromoland Castle Golf & Country Club |
| Company Involvement: | |
Dromoland Castle Hotel & Country Estate in conjunction with Turfgrass Consultants awarded EGS the contract in 2002. EGS were the main contractors for the project. The golf course Architect was Ron Kirby.
| | |
| --- | --- |
| Start / End Date: | May 2002 – April 2004 |
| | |
| Project Description: | |
Excavation of 60,000m3
Shaping of new greens, tees, bunkers, and three fairways
7.5km of primary and secondary drainage
Irrigation 6.5km
Installation of 160,000 sprinkler heads
11.5km of stone cart paths with dust finish 2.5-3m wide
Construction of 3 new lakes
The development consisted of a complete remodel of the existing 18 hole course, extending the course into new areas of the Estate. The project was in 2 phases - consisting of 9 holes in each phase. It included the construction of new greens, tees, bunkers and some fairway areas with the installation of a new extensive drainage system and top dressing programme.
Full fairway & semi-rough drainage system consisting of main drain network between 100-160mm diameter with 80mm lateral pipes at 8-10m spacings. Secondary drainage system of 300 mm depth gravel slits at 1-11-2m spacing.