Drainage project - Dromoland Castle Golf Academy Newmarket, Ireland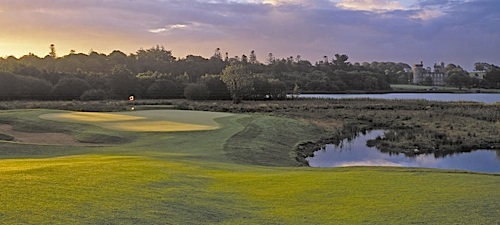 Full fairway & semi-rough drainage system consisting of main drain network between 100-160mm diameter with 80mm lateral pipes at 8 to 10 metre spacings. Secondary drainage system of 300mm depth gravel slits at 1 metre spacing
| | |
| --- | --- |
| Name: | Dromoland Castle Golf Academy Newmarket, Ireland |
| Website: | http://www.dromoland.ie/golf.html |
| Contract Type: | Traditional IEI Contract |
| Client: | Dromoland Castle Golf & Country Estate |
| Company Involvement: | |
Dromoland Castle Hotel & Country Estate awarded EGS the contract in 2005. EGS were the main contractors for the project. Ron Kirby was the Architect for the project.
| | |
| --- | --- |
| Start / End Date: | September 2005 – April 2006 |
| | |
| Project Description: | |
Excavation 30,000m3
Top soil strip of 60,000m2
Drainage of 6.8km
Secondary slit drainage system of 40,000km
Shaping, cultivation and seeding of 48,000m2
Construction of 1800m2 of tee surface
Construction of 1200m2 of green surface
Construction of 6m road 320lm, including ducting and services
The works included a diversion of 400m three phase supply, construction of two greens and chipping area.
The ground works included the construction of a driving range facility with state of the art up-lighting system through the range area, the construction of 150lm of road with tarmac finish, the construction of a stone gated entrance, landscaping of 1800m2, the cultivation and seeding of the range facility, the installation of main drainage and secondary slip drainage system to the driving range. Design and insulation of greens and tees irrigation system.