Remodelling project - Elm Park Golf Club , Dublin, Ireland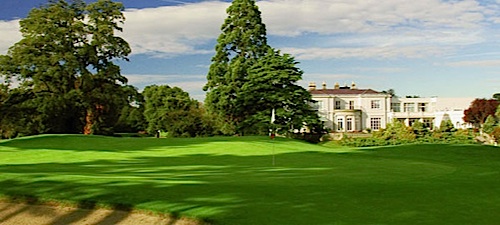 Remodelling of 18 holes and short game area. Urban parkland course set on a compact mature site, incorporating the import of landfill to carry out the works
| | |
| --- | --- |
| Name: | Elm Park Golf Club , Dublin, Ireland |
| Website: | |
| Contract Type: | Traditional IEI contract |
| Client: | Elm Park Golf & Country Club |
| Company Involvement: | |
Elm Park Golf & Country Club awarded EGS the contact in June 2002. EGS were the main contractors for the project. The remodelling was designed by Patrick Merrigan Golf Course Design and the irrigation designer was York Martin.
Start / End Dates:

Phase 1 - August 2002 to October 2002
Phase 2 - July 2003 to September 2003
Phase - 3 August 2004 to October 2004

Project Description:
Excavation of 28,000m2 and importation of subsoil
Shaping of greens, bunkers and short game academy
Installation of 10km of drainage
Installation of 2.8km of irrigation pipe, 0.9 to 0.032m
Installation of sprinkler heads 160 units
1.2km of gravel paths 2.5 to 3m wide
Divert and rock armour replacement of streams
The project was completed in three phases and was open to the public at all times during construction. The development consisted of a full remodel of the 18 hole course in urban surroundings. The course is a mature parkland site with streams and water features. In-earth subsoil was imported to the site. All greens were turfed using the existing POA Sod. Each phase was open for play the following May.