Irrigation project - Fohr Golf Club, Nieblum, Germany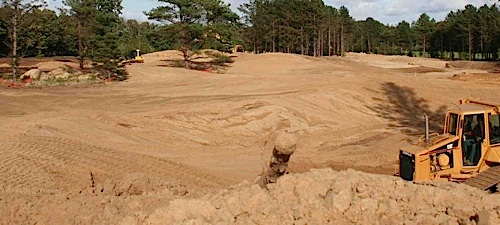 A 9 hole 'Perrot' irrigation system on the new course and renovation of the irrigation system of three holes on the existing course, including new pump station and controller system
| | |
| --- | --- |
| Name: | Föhr Golf Club, Nieblum, Germany |
| Website: | |
| Contract Type: | Standard German Construction Contract |
| Client: | Golf Club Föhr e.V. |
| Company Involvement: | |
Föhr Golf Club awarded EGS the contract in 2007. EGS were the main contractors for the project. Golf course Architect, Christian Althus of Städler Golf Courses and irrigation designers, Irriplan were the designers for the project.
| | |
| --- | --- |
| Start / End Date: | June 2008 – October 2008 |
| Contract Value: | |
| Project Description: | The contract comprised of the following: |
125m3 of earth moving

Tree clearance of 3 hectares

Top soil strip of 46,000m3

Shaping of 23 hectares

Installation of 12.5km of irrigation pipe network

Installation of 350 sprinkler heads and two pump stations
Construction of 10 new holes and remodelling of 2 holes on the existing 18 hole course. Including, surveying and setting out, tree clearance, top soil strip, earth moving and shaping, sourcing of materials on site and production of Rootzone mix, the relocation and construction of new public walk ways, installation of new irrigation system and submersible pump stations and the set-up and programming of computerised irrigation system.